Fitted Wedding Rings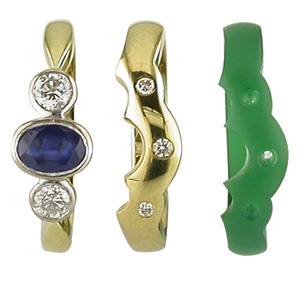 Are wondering how your engagement ring will fit with your new wedding ring?
At Gavin Mack Jewellery Limited I have the perfect solution, Fitted Wedding Rings.
I feel it's important that you are able to have a realistic idea of how your ring will look and feel before I work on the finished piece. So I would...
The process
I create the fitted wedding ring by carving a wax model around the original engagement ring, from that creating a wedding ring that will fit together in perfect harmony with no gaps. This service is provided free of charge.
The outcome
A perfectly fitted set of rings that look like they are meant to be together.
(The green moulds alongside the rings in the example photos below are tailor made before I produce the final ring).